Skip to Content
The Steps of Optimizing Pneumatics for Automotive Facilities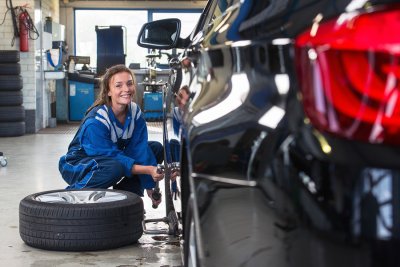 Your industrial air compressor in San Jose utilizes a significant amount of energy and contributes greatly to the overall cost of running your facility. By optimizing pneumatics in your automotive facility, you can make your industrial air compressor more energy-efficient. Here are some simple steps for optimizing pneumatics in your automotive facility by replacing some key air compressor parts.
Install a Variable Frequency Drive in Your Industrial Air Compressor
When your industrial air compressor operates via a simple on and off control switch, you might be utilizing more energy than necessary. You can reduce the energy needed and maximize efficiency by installing an air compressor part like a variable frequency drive or variable speed drive. A variable speed drive allows the air pressure in your air compressor to remain stable while the required air flow is supplied. It also reduces the amount of air compressor motor starts and air compressor repairs, and extends the lifetime of the air compressor's motor.
Install an Energy-Efficient Motor
Another key way to optimize the pneumatics of the industrial air compressor in your automotive facility is to install an energy-efficient motor. For small air compressors, the motor is not as integral a part of maintaining energy-efficiency as it is in larger, industrial air compressors. A reluctance motor is incredibly energy-efficient, and combined with a variable frequency drive or variable speed drive, it can save you a significant amount of money on your energy bills. In fact, for larger industrial air compressors, an energy-efficient motor might be the most important air compressor part.
Install a New Air Compressor Pressure Switch
You can save significant power when you are able to run your air compressor in a more efficient operation mode. You can upgrade your air compressor pressure switch to allow you to adjust the air pressure that is utilized based upon the type of job you are doing. For short-term, less intensive jobs, you can operate your industrial air compressor at a lower pressure.