Skip to Content
D & D Compressor, Inc. Provides Rotary Vane Repairs
D & D Compressor, Inc. offers sales and repairs of rotary vane vacuum pumps for San Jose, CA. We work with a broad spectrum of industries due to the effectiveness and versatility of this type of vacuum pump. Our specialists have over three decades of experience determining the best model for your business and repairing damage caused by a variety of reasons. You can trust us to keep your business running smoothly. No matter what you use them for, your rotary vane vacuum pumps are critical to your company. Allow us to supply and repair them.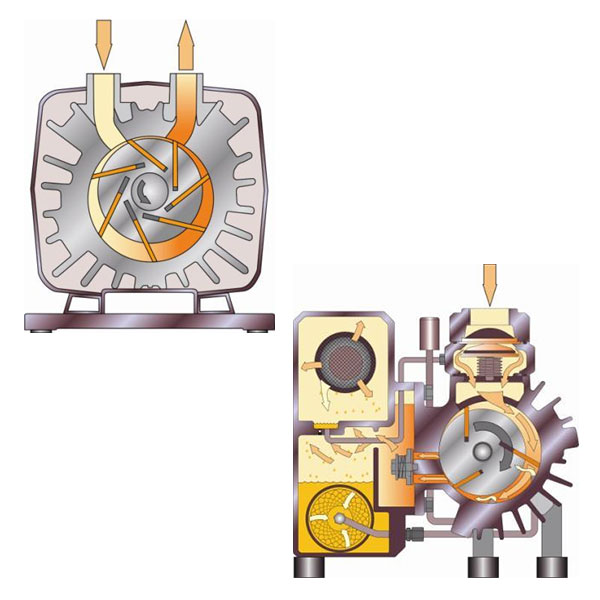 About Rotary Vane Vacuum Pumps
Rotary vane vacuum pumps are positive-displacement pumps consisting of vanes, which are mounted on a rotor and rotate inside a variety. Depending on their use, they have various sizes and design schematics. They can be used for an array of items, including gases. We work with a broad spectrum of industries to maintain their rotary vane vacuum pumps, as they are used in numerous applications. High-pressure hydraulic pumps, automobiles, carbonators in soft drive dispensers, and expresso coffee machines all utilize rotary vane vacuum pumps to operate.
The Six Parts of Rotary Vacuum Pumps
Rotary Vane Vacuum Pumps contain six parts, each of which plays a critical role in maintaining your operations:
Housing: The housing holds all the working parts of the rotary vane vacuum pump.
Rotor: This element sits off-center of the rest of the design, closer to the bottom of the housing than to the inlet and outlet valves.
Vanes: The vanes cycle continuously under both centrifugal and resilient forces.
Inlet Valve: Some rotary valve vacuum pumps contain an inlet valve. If they do, this component is responsible for ensuring safety by remaining open throughout all operations.
Working Chamber: Inside the housing lies the working chamber. The stator, rotor, and vanes all restrict the working chamber and divide it into two different compartments with variable volumes and pressure levels.
Outlet Valve: Finally, as the rotor turns, gas flows into the suctioning chamber until the second vane seals it. The rotary vane vacuum pump then compresses the gas until the atmospheric pressure opens the outlet valve.
When You Should Call for Rotary Vane Repair
You shouldn't ignore any sort of problem with your rotary vane vacuum pump. Whether you rely on a high-vacuum, industrial-strength vacuum pump for operations or one to power your coffee shop's espresso machine, you need to keep your equipment running. Unfortunately, just as with automobiles and kitchen appliances, even the stoutest rotary vane vacuum pump requires repairs from time to time. When they do, they only trust an expert to repair it. D & D Compressor, Inc. has years of experience and an innate understanding of how these sophisticated pieces of equipment function. We can help when you notice any of the following signs of rotary vane vacuum pump failure:
The Pump Could Be Contaminated
Rotary vane vacuum pumps withdraw liquids or gas from a specific location, and in the process, create a vacuum. This action allows the machine to create vacuum. Unfortunately, its design makes it vulnerable to contamination from a variety of sources, including dirt, dust, gas, or chemicals. Fortunately, D & D Compressor, Inc. can restore the pump. Typically, decontamination is all that's needed to restore the machinery and get your operations back on track.
Corroded Parts Could Be the Issue
However, you could be experiencing corrosion in addition to or instead of contamination. The causes vary, but many of them are similar to those that create contamination. For instance, liquids or gas could corrode the surfaces inside your rotary vane vacuum pump. Don't ignore this symptom. D & D Compressor, Inc. has the tools and know-how to rectify the problem.
We Can Correct Mechanical Failures, As Well
Sometimes rotary vane vacuum pumps break. A part might fall off or shatter, or blunt-force trauma could damage the entire machine. However, D & D Compressor, Inc. is skilled at repairing the damage and preventing your business from having to replace the whole unit.
D & D Compressor, Inc. Handles All Kinds of Vacuum Pumps
While we're proud to boast expert status in rotary vane vacuum pump repairs, we're pleased to say we can do the same for other conventional vacuum pumps, including liquid ring and oil-free vacuum pumps. In addition to our sterling work on vacuum pumps, we also sell, maintain, and repair air compressors for a broad spectrum of industries. If you require our services, then don't hesitate to contact us today immediately. We'll schedule an appointment for service and get your business humming again.
24/7 Emergency Services Available