Skip to Content
Pump Accessories in San Jose, CA
If you have a single-stage or two-stage vacuum pump, you will eventually need replacement vacuum pump parts. You'll also need high-quality, reliable vacuum pump accessories. Depending on the type of vacuum pump you have purchased or leased, you may also want to purchase a vacuum pump repair kit. If you have any questions about pump accessories or pump motor parts in San Jose, CA, give us a call at D & D Compressor, Inc. and we'll walk you through it.
Rotary Vane Pump Accessories
The specific rotary vane pump accessories that you will need may depend upon the manufacturer, model, and year of your rotary vane pump. The most common rotary vane pump accessories needed are:
Repair kits
these typically contain replacement parts, miscellaneous parts, and hardware needed to repair the specific make and model of your vacuum pump. Do not attempt to repair your vacuum pump if you aren't experienced or if the problem seems severe.
Vanes
replacement vanes and spare blade kits
Miscellaneous Parts
such as rings, seals, couplings, sleeves, springs, spacers, bearings, valves, shims, and hardware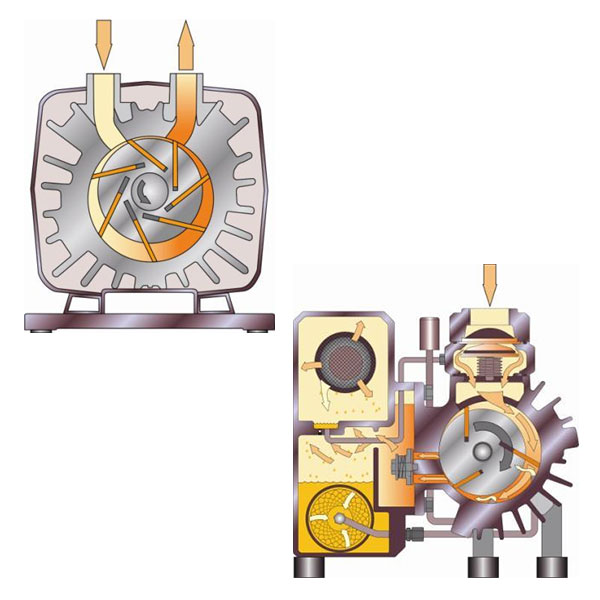 Cables & Cords for Rotary Vane Pumps
Rotary vane pumps require the use of power cords and cables that connect the pump to another piece of equipment, like a mass spectrometer. The power cord that you need will depend upon the requirements for the pump's voltage range and plug configuration, as well as the manufacturer and model of your pump.
Oil Mist Eliminators & Cartridges for Rotary Vane Pumps
Oil mist eliminators and vacuum pumps capture your vacuum pump's exhaust oil mist. This prevents the buildup of oily residue on surfaces and the spread of unpleasant odors in the work environment. If you don't utilize an oil mist eliminator, your workplace may be unsafe and/or not up to code. Depending on the manufacturer and model of your rotary vane pump, you may need a hydraulic breather, industrial oil mist filter, oil mist eliminator and odor adsorption filters, or a recirculating oil mist filter.
Oil Filters, Oil Returns & Drains for Rotary Vane Pumps
Your rotary vane pump will exhaust small drops of oil when it operates under a high gas load. This depletes the oil level in the pump reservoir until it falls below the level required to use the pump without damaging it. Using an oil filter, oil return, and drain will allow the oil collected in the exhaust filter to be returned to the pump reservoir for reuse. This prevents waste, prevents damage, and prevents oil residue buildup. It also prolongs the life of your rotary vane pump and reduces your costs.
Vacuum Fluids for Rotary Vane Pumps
Because there are so many different applications for rotary vane pumps, the fluids used in the pump depend upon the pump's intended use and operation. To ensure you're using the correct vacuum fluids, you'll need to consider the vapor pressure, viscosity level, resistance to heat or chemical attack, and any other factors that allow for optimal performance of the pump.
Inlet Filters & Traps for Rotary Vane Pumps
Inlet traps protect the vacuum space from contamination from oil due to the back-streaming and oil buildup from the pump inlet. If the gas stream carries foreign material or other particulates into the pump, an inlet filter will protect the pump from severe damage by filtering out and removing the debris before it can enter the pump.
Contact Us for Pump Accessories in San Jose, CA
If you're not sure which vacuum pump accessories you'll need, come see us at D & D Compressor, Inc. Our staff has years of experience in the maintenance and repair of vacuum pumps, and can advise you on exactly what type of pump accessories, vacuum pump parts, and pump motor parts you'll need. We carry a wide range of high-quality parts from trusted manufacturers, and if we won't have what you need, we'll do our best to order it for you. To learn more, call us today or contact us online.
24/7 Emergency Services Available