Skip to Content
The Source for Medical Vacuum Systems in San Jose, CA
Many people don't realize just how much hospitals are dependent on medical vacuum systems and compressed air to care for their patients. From operating rooms and laboratories to patient rooms and cleaning and building maintenance activities, compressed air can be a large part of getting people treated and back on the road to health and wellness. D & D Compressor, Inc. has the equipment, testing, and expertise to install medical vacuum systems that are strong and reliable, offering a high level of consistent, quality air to a hospital or medical center that requires NFPA and OSHPOD certified systems.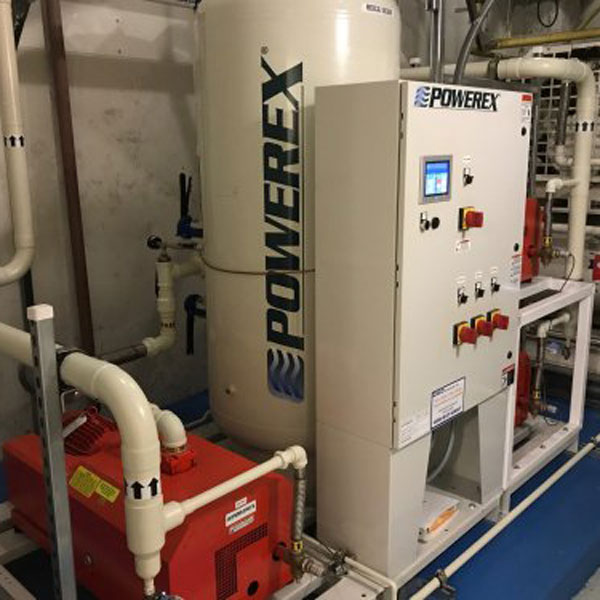 Medical Vacuum Systems Require Expertise
Medical vacuum systems can't be put together by a standard technician; rather, they need to be installed by a team with experience and knowledge. Think about it: In a hospital setting, compressed air is required to be 100% sanitary, free of germs, and reliable. This is true in sterile operating room environments, intensive care units, selected laboratory environments, diagnostic testing environments where results are crucial to patient outcomes, and in other patient care situations.
When constructed properly, the medical vacuum systems that create compressed air keep contaminants from entering a patient's air supply, or from contaminating the environment in a sensitive lab procedure or testing environment. They also run consistently and efficiently.
Trust the Experts at D & D Compressor, Inc.
D & D Compressor, Inc. can provide the expertise needed to establish and test a system for the strict sanitation requirements that patient care demands. Our technicians are knowledgeable about all the components that go into a medical vacuum system. For example, they can determine where intake pipes should be placed usually at least 10 feet away from a hospital entryway so that pipes can start with the purest air possible. An expert will also be able to judge how the need for intake equipment will change based on whether it is servicing a single system or for multiple systems at once. The experienced certified NFPA and OSHPOD technicians at D & D Compressor, Inc. are also knowledgeable about any other environmental factors that are likely to affect the system. And once a team of our installers gets the system up and running, they can provide a comprehensive testing and maintenance program to keep it running well.
Learn More About Hospitals and Compressed Air Systems
D & D Compressor, Inc. is an experienced, knowledgeable installer of total medical facility solutions for compressed air. We have completed a number of jobs for hospitals and other medical buildings and use this experience to help our customers. If you have questions, feel free to contact us. We're happy to put what we've learned to use in your facility. Call us today to talk to us about how we help.
24/7 Emergency Services Available