Skip to Content
Fixing Air Compressor Inefficiencies in the Metal Industry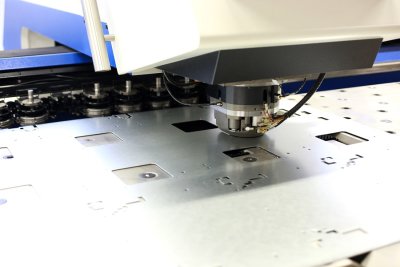 Compressed air plays a major role in the modern metal fabrication industry. Air compressors are used in a variety of different applications within the metal industry, in fact, it's hard to name very many processes at all where compressed air is not used in some capacity. Considering the widespread use of compressed air within the metal industry, it's important to improve the efficiency of your air delivery systems to reduce compressed air demand and the resulting costs. Here are a few things you can do to fix inefficiencies in your compressed air systems.
Turn Off Compressed Air When Not Used
The easiest way to reduce compressed air costs is by simply turning off compressed air systems when they are not in use. Automated systems use solenoids to turn off the air when use is not detected. This can save hundreds of airs of compressed air every year, which can translate to thousands of dollars in annual savings depending on the size of your compressed air system.
Find and Fix Leaks
Another easy way to improve the efficiency of your compressed air system is to find and fix leaks that can waste untold amounts of air and possible cost thousands of dollars in added costs each year. Leaks not only waste air, but they can cause the compressor to run longer and more frequently to account for the wasted air, which means more wear and tear that can ultimately result in air compressor repairs and a shorter compressor life.
Upgrade Your Compressed Air Components
Depending on the age of your compressed air system, you might realize tremendous efficiency improvements by upgrading various parts and components that make up the air compressor system as a whole. An air compressor parts supplier in San Jose can tell you more about the latest and most efficient components for your air compressor system that can improve efficiency, reliability, and performance overall.