Skip to Content
Answering Some Common Questions About Air Compressors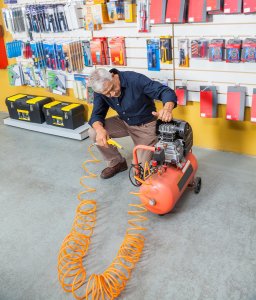 If you are shopping for a capable and versatile device to include in your workshop or garage, you may want to consider purchasing an air compressor. Air compressors can be used for many different tasks, ranging from household projects to inflation and more. A company offering air compressors for sale in San Jose can help you select the perfect air compressor for your needs. After your compressor purchase, you will be amazed at the usefulness of this device. To highlight the advantages of purchasing an air compressor, here are the answers to some commonly asked questions about compressors.
What Are Air Compressors Used For?
When you are considering the purchase of an air compressor, you may wonder about how you will use this device. In fact, an air compressor can be used for many different applications around your workshop or garage. For example, compressors can be used to inflate tires and sports balls. With air tool attachments, air compressors can also be used for woodworking, construction, painting, and more.
What Are The Advantages of Air Tools?
There are many reasons to use air tools for your projects. When you purchase air tools, your tools will provide you with more power and performance than traditional tools. Pneumatic devices, such as an air nail gun, will allow you to accomplish your project more easily and efficiently. In addition, air tools can often be purchased at a lower price than conventional tools. For this reason, air tools are a budget-friendly and energy-saving choice for all of your projects.
What Should I Look For In a Compressor?
There are several important factors to consider when you are shopping for an air compressor. As you are reviewing compressor models, it is a great idea to evaluate their CPM or Cubic Feet Per Minute rating. A compressor with a higher CFM rating will offer additional power. Along with CFM, you should also consider whether you would prefer a gas or electric compressor. Your air compressor specialist can help you choose the right model for your upcoming projects.